Tunnelling
Tunnels are the shortest way of connecting two points. They join places and people and ensure the continuous flow of commodities. 
Increase in population and urban growth are in progress. To further provide mobility of people and goods, the way leads below the ground by constructing tunnels. To guide tunnel boring machines to their destinations with millimetre accuracy, VMT have been developing navigation systems since 1994. Long-term experience and the constantly increasing requirements of our customers have resulted in a continuously improved product portfolio and the worldwide best-selling navigation systems in tunnelling. Used in combination with our complementary systems in information and monitoring, we provide a complete solution for projects.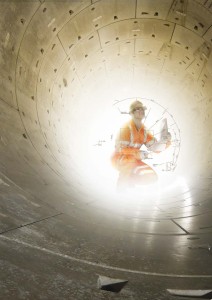 However, not only below ground, but also in built-up and residential areas above ground, there is an increasing demand for monitoring systems. The desire for safety requires risks to be detected at an early stage to prevent accidents and property damage. For monitoring safety critical equipment and structures, VMT GmbH provides tailored monitoring systems. From conceptual design and selecting appropriate measuring equipment and sensors, through installation, initial measurement and maintenance up to removal of our systems, we provide all deformation monitoring related services.