For over 15 years, VMT has been raising the next generation of industry professionals by offering opportunities for interns, working students and apprentices, as well as placements for students writing their Bachelor and Master theses.
Today we're shining a spotlight our apprenticeship program and our current apprentices, Muhammed Demir, Carlos Miguel Schmidt and Philipp Henigan.
In Germany, apprenticeships are a rigorous training program lasting anywhere from two to four years. Participants – or "Azubis" as they're affectionally known over here – learn at specialised vocational schools, as well as on site at their employing company. The combination of formal learning and hands-on workplace experience ensure that each Azubi is effectively equipped to enter the workforce at the end of their placement.
VMT has been offering apprenticeships since at least 2005 in the fields of IT, logistics, office management, applied informatics, electronics and mechatronics. Placements are offered most years – sometimes every two years, depending on capacity – and when a place is offered, competition can be tough! In our most recent intake round we had 85 applications, of which 12 were interviewed and two were finally hired.
Muhammed Demir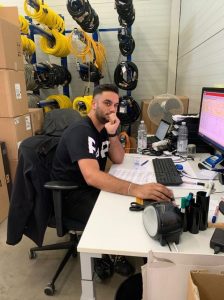 Muhammed Demir began his apprenticeship as an office management assistant at VMT in September 2020, with the goal of gaining insight into the varied tasks of office life in a future-oriented company. Although he supports many departments, his main work is with human resources and the purchasing department.
"Working with a fast-paced team has given me the invaluable hands on experience, getting to know so many systems and processes that I hadn't worked with before. Dealing with customers and guiding the course of an application process are just two of the many things I've learnt in my time here.
I love the working atmosphere at VMT. Everyone is friends and helps each other out, and my team leaders never hesitate to support me in my development. I'm excited to keep growing in my role, and hope to continue working for VMT after my apprenticeship ends in July 2022."
Carlos Miguel Schmidt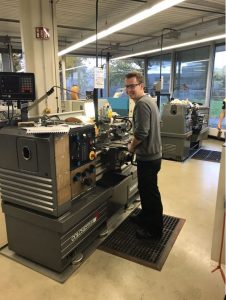 Carlos Miguel Schmidt is in the third year of his apprenticeship as a mechatronics technician, with his final exams coming up this summer. Carlos opted for an apprenticeship with VMT as an alternative to the more formal learning environment at university. His hands-on role with the mechatronics team – within the Hardware & IT Solutions department – was a perfect match.
"At VMT I learned to apply my knowledge practically and to find solutions for equipment in harsh environments. I get to work on small scale manufacturing, testing and repairing central boxes and sensors, building prototypes, and designing and building special testing equipment or mounting solutions. I love the broad range of tasks and being part of such a nice team.
During the first year of my apprenticeship, VMT supported me in attending a special training workshop to learn how to operate different kinds of machinery. It's been wonderful to have these kinds of opportunities and to spend time in different learning environments.
VMT has given me a great foundational experience in the industry. Moving forward, I'm excited to acquire additional qualifications, to expand my knowledge and to explore my full potential in the field of mechatronics."
Philipp Henigan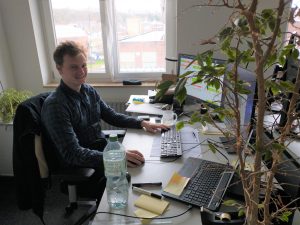 Before starting in his current role, Philipp Henigan was a working student at the VMT branch in Witten. Loving the team and working environment, he asked to start an apprenticeship. Now, Philipp is in the second year of his apprenticeship as an IT specialist.
"As part of the SDS team, the scope of my duties is very broad. I am tasked with installation, configuration and development of the mobile scanners, our web visualisation and our main product itself. Having such variety is fantastic and the work day never gets boring.
In my time at VMT I've learned so much about databases, development and dealing with strangers. My best memory so far was commissioning of my first own configurated system near London. I went there with a project manager and worked on site. It was very interesting and a different world than normal.
In five years' time I would love to still be working for VMT…and hopefully doing more of these commissionings!"
We're delighted to have Philipp, Carlos and Muhammed as part of our team, along with our current interns, working students and thesis writers.
Interested in professional development opportunities at VMT? Get in touch with our Human Resources Assistant, Tanja Hoffmann.
Tanja Hoffmann
Tel.: 07251 9699-140
bewerbung@vmt-gmbh.de
Cross River Rail (CRR) is Queensland's largest public transport infrastructure project and includes 10.2km of new rail line from Dutton Park to Bowen Hills, and 5.9kms of twin tunnels under the Brisbane River and the CBD.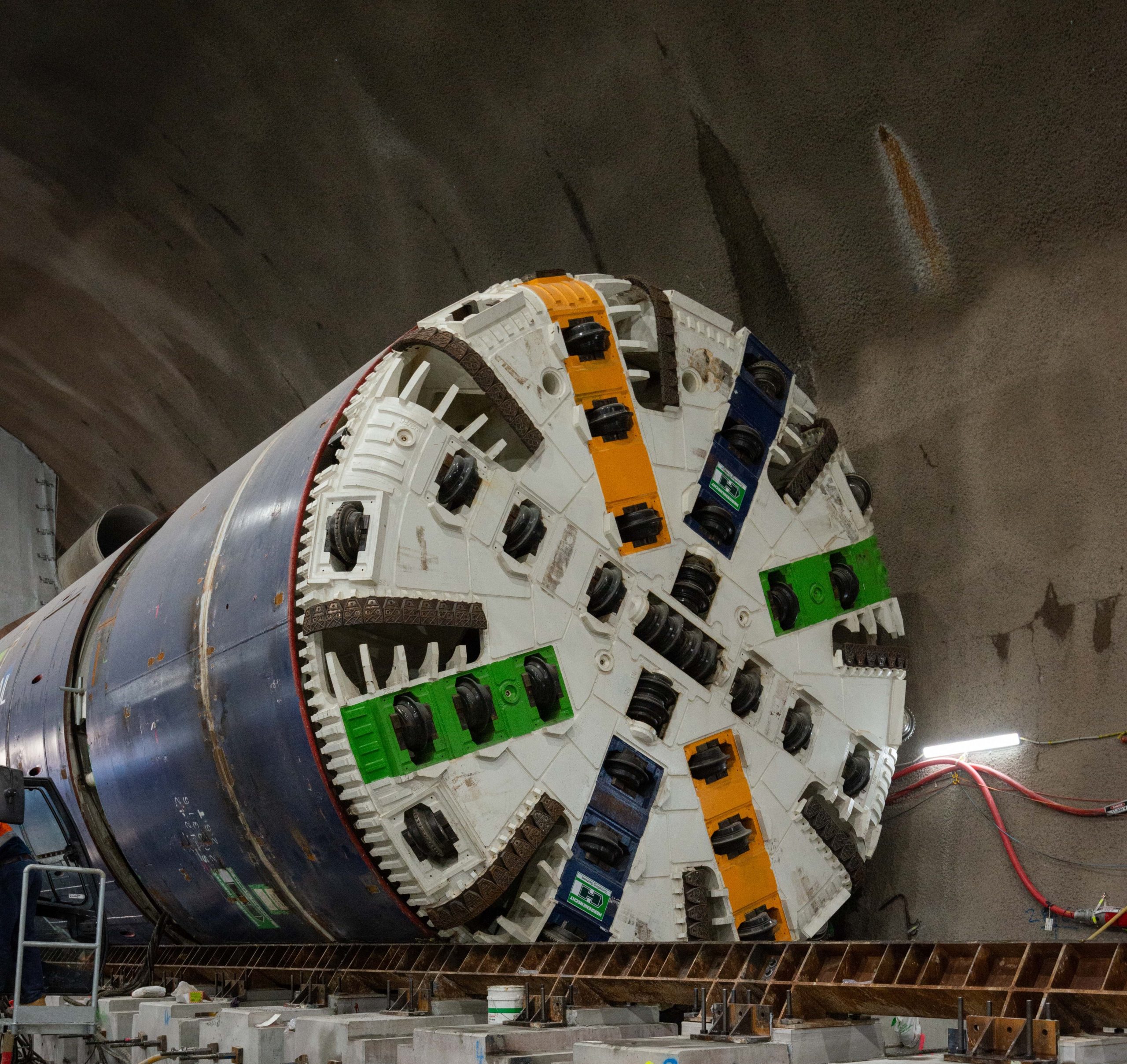 The Queensland Government has invested $5.4 billion in the project which will deliver four new underground stations at Boggo Road, Woolloongabba, Albert Street and Roma Street and two new stations at the RNA Showgrounds and Dutton Park.
The project is also responsible for the delivery of significant accessibility rebuilds to six above-ground stations from Salisbury to Fairfield on Brisbane's Southside, construction of three new stations on the Gold Coast, and the introduction to the wider South East Queensland (SEQ) rail network of the European Train Control System (ETCS).
The twin tunnels commenced at Woolloongabba and headed north breaking through into station caverns at Roma Street and the northern portal. Both tunnels were constructed using Tunnel Boring Machines (TBMs) manufactured by Herrenknecht AG. Both machines were Double Shield TBMs of 7.18m diameter. The tunnel drive lengths were 4,098m and 4,083m respectively with curves of minimum radius 415m. The tunnels commenced in February 2021 and were completed to breakthrough in December 2021.
As well as the TBMs, the project used six electrically powered roadheaders for other excavation works including the finely controlled excavation required for shallow tunnel, cross passage, and station cavern excavations.
SUPPORTING TECHNOLOGY
Whilst the TBMs and roadheaders were doing the heavy work of excavating the ground, they required logistical back-up in the form of navigational tools, segment lining control, lining ring sequencing and data management hardware and software including Segment Documentation systems.
All of these systems were provided throughout the project by specialist navigation and site management systems manufacturer VMT GmbH of Bruchsal, Germany.
For the TBMs, VMT provided two TUnIS Navigation Double Shield systems. To many tunnelling engineers, the navigation system for a Double Shield TBM is seen as one of the most demanding in tunnelling. Based on a total station, a target unit installed within the TBM shield along with other components determine the current advance position. In addition to calculating and displaying the current advance of all parts of the machine, in particular the front and gripper shields, information is available regarding the comparison of roll between the front and gripper shields and the deviations to the designed tunnel axis.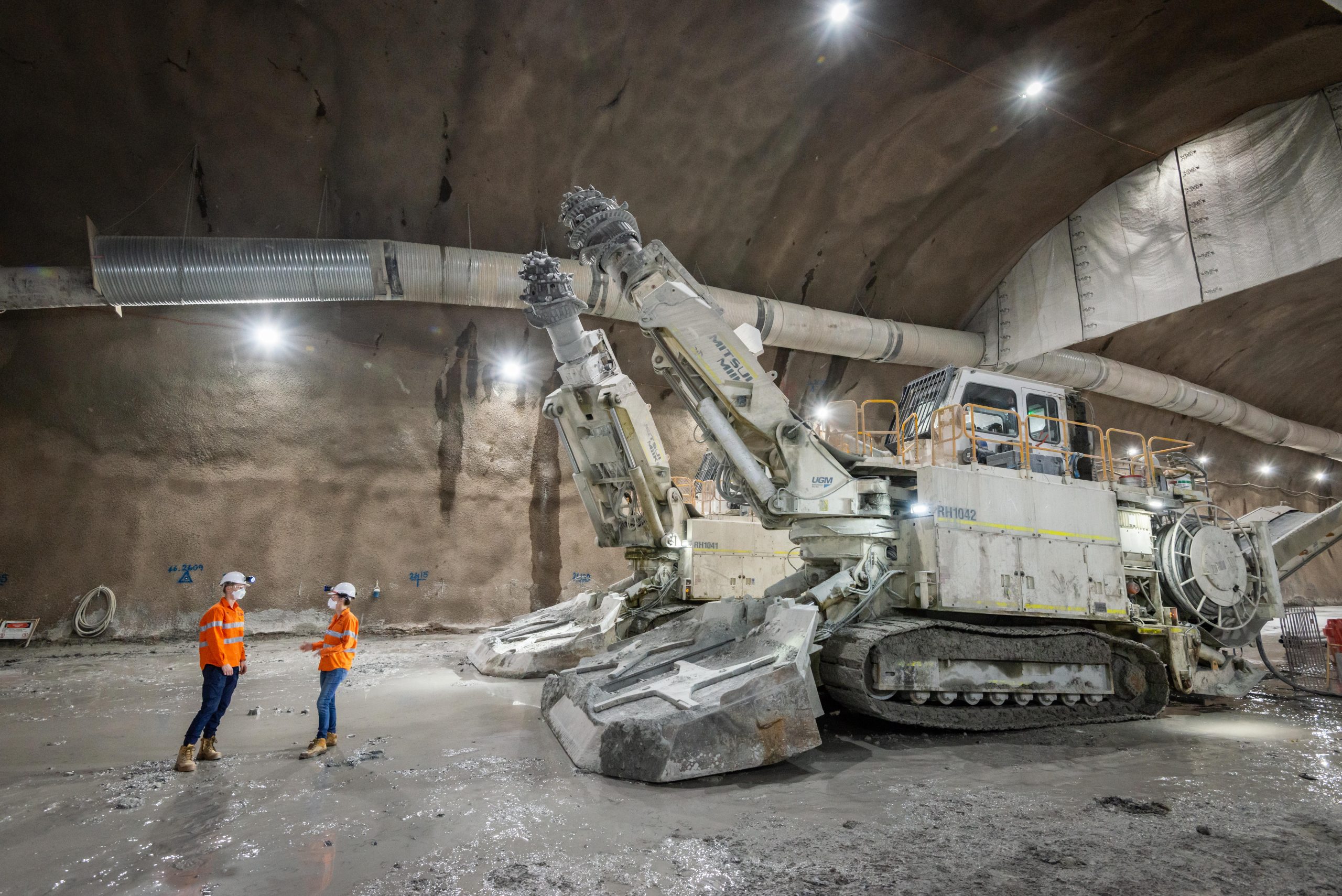 For optimisation of tunnel advance it is also important to utilise the correct support ring sequencing. For this purpose, VMT supplied two of its TUnIS Ring Sequencing systems. This system automatically calculates the optimum ring sequence for tunnel drives that include segmental lining. The optimum ring position is a critical part of tunnel construction. Depending on the selected ring rotation, the following ring will have a specific build direction that relates to the shield movement. This avoids damage to the exterior of the concrete segments. Based on the ring position of a previously installed ring, TUnIS Ring Sequencing allows for predictive ring sequencing, taking into account the current TBM position. This means that by calculating the optimum ring orientation in advance it can be ensured that the ring sits as centrically as possible in the tailskin of the TBM, preventing serious damage to tailskin and liner segments. The system also ensures that the thrust cylinders are evenly extended and that there is no excessive strain on and/or resulting damage to the segments.
By calculating several rings in advance expensive incorrect deliveries can be avoided, especially in case of complex ring designs with different ring types. As ring orientation is already calculated in advance, the ring can be constructed without loss of tunnelling time.
With so much information to handle it was also vital that data was available as required to maintain the safety and accuracy of the tunnels. This was achieved with the use of the VMT-supplied TUnIS Navigation Office system, one for each TBM. TUnIS Navigation Office provides real-time navigation and ring data from one or more TBMs, such that the navigation system may be directly monitored from the site office. This allows the user to immediately analyse and document current and historical data.
For navigation of the roadheader VMT supplied six TUnIS Navigation Roadheader systems. This system was developed specifically for Roadheaders and provides exact measurement accuracy, top performance and high efficiency in conventional tunnelling for Roadheader excavation (for example NATM) and specific excavations as in Brisbane thereby maximising the advance performance. The system combines robust hardware and modern analysis software. TUnIS Navigation Roadheader is a high-performance navigation system for roadheaders that supplies reliable data to the operator for precise control of the cutterhead. A Total Station based navigation system determines the exact position of the machine as well as the cutterhead and provides all relevant information in visual and numeric form in the control cabin for the operator.
Working in association with the roadheaders, VMT also provided a TUnIS Navigation Office CT system. TUnIS Navigation Office CT is used to create all relevant data such as alignments, profile band and bolt patterns and secondly to manage all tunnel areas with this specific data. In addition, data is transferred from the machines (Roadheader and Rockbolter) to the TUnIS Navigation Office PC, for example to analyse excavation and production data. Furthermore, a number of reports can be generated and exported by the system.
VMT also provided a VDMS.process Data Management System for the project, which offers location-independent, web-based, digital analysis tools for jobsite and project management, together with worldwide insight into the cockpit monitors of the machine operators. This includes a wide range of automated analysis functions as well as clear visualisations and reporting of data relevant to tunnelling operations.
SITE SEGMENT HANDLING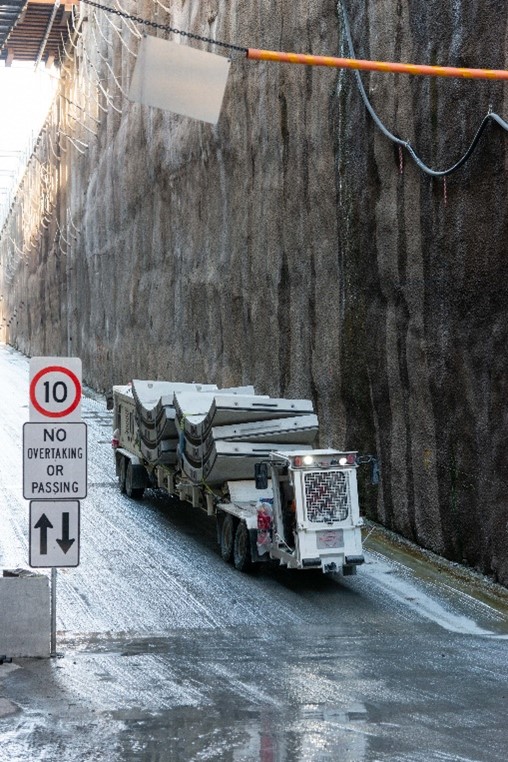 The handling and control of liner segments on site is always a vital part of the tunnel construction process. For the CRR project VMT provided two systems: SDS.Onsite and SDS.Production (SDS stands for Segment Documentation System).
The SDS.Production system was installed and utilised at the manufacturing site whilst the SDS.Onsite was used for management of the segments from arrival at the construction site through to installation. A Blackbox storage systems was also provided along with a quarantine area.
The SDS.Onsite systems went live in January 2021 and is expected to operate until the end of the first quarter of 2022. This system is designed to register segment data from the tunnel installation, cross referencing with an interface to the segment production site.
CHALLENGES
Despite Covid restrictions, VMT was able to run a smooth commissioning operation through VMT's Australia-based engineers and colleagues from VMT headquarters in Germany that provided online support if necessary. The Segment Documentation System SDS was set-up largely using remote access. With excellent preparation on site, it was possible to set up all IT devices, so that VMT had a good base for several training sessions using Teams and other online platforms. In addition to the live training, VMT delivered excellent training documentation (including presentations and live videos) to the customer to ensure a smooth process for the entire project duration.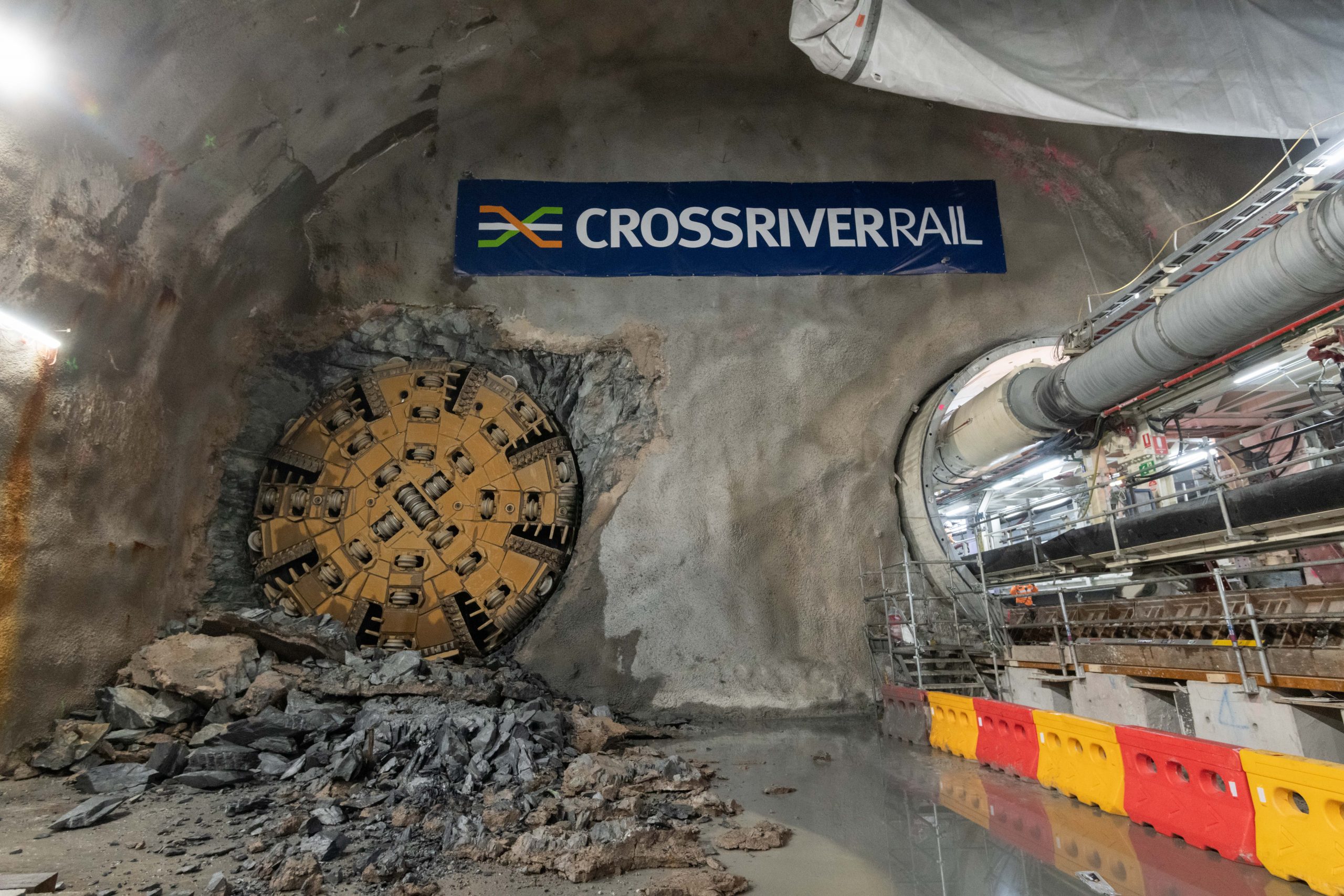 As well as these set-up challenges, there was also required a TBM survey on site after the TBMs have been assembled.
As for using the VDMS.process Data Management System, given the Double shield TBMs on site, a development was required for a feature in the shift module to meet the working needs of the jobsite.
Commenting on the project for VMT, Team Leader, Manuel Klisch and Senior Project Engineer, Gerlinde Grom said: "Having had excellent collaboration on previous projects we were in a good position for this one. We had several VMT products across the site and were able to establish ongoing cooperation with the same persons and companies throughout. This was also a big project for us to get right as it is a major project for Australia which was constantly being reported on national TV. So, we had to get this one right, and we did!"
At a Glance Fact Sheet:
Die Zeit vergeht wie im Flug, wenn man Spaß hat – unser australisches Team wird in diesem Jahr 15 Jahre alt!
Wir sind der Meinung, dass der Wombat auf unserem Jubiläumslogo VMT Australia perfekt widerspiegelt: nett, ausdauernd und überraschend wild, wenn es sein muss… ach ja, und sie sind verdammt gut im Tunnelbau. Von Beginn an sind sie zu einem festen Bestandteil der australischen Tunnelbauindustrie geworden und haben an wichtigen Infrastrukturprojekten wie Sydney Metro, Melbourne Metro, Brisbane Cross River Rail und vor allem WestConnex-Stufen 1B, 2, 3A und 3B mitgearbeitet. Zurzeit sind sie mit Snowy Hydro und der Stufe 1 des neuen M6-Projekts beschäftigt. Matt, Dan, Gheorghe vielen Dank, dass ihr euch in Down Under für uns durch die Erde grabt…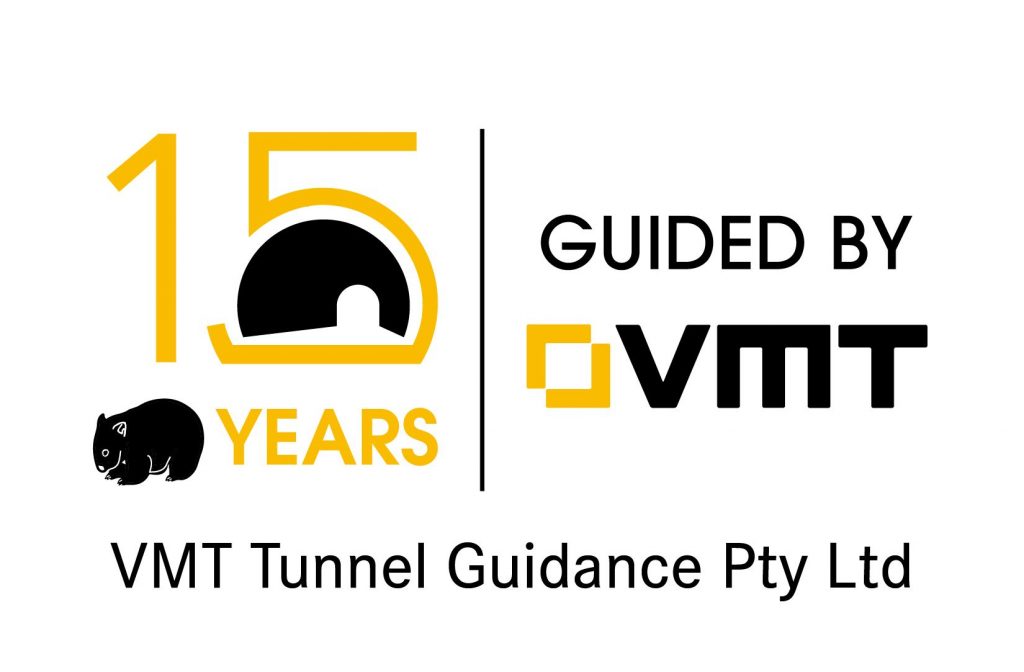 12 years in the making: The New U-Bahn Line in Karlsruhe
As we kick off the year and look forward to the next twelve months, we're celebrating the completion of a project that's been twelve years in the making: the new U-Bahn line in Karlsruhe. Consisting of a light rail tunnel, an above-ground track and an additional tunnel for road traffic, the so called "Kombilösung" (combined solution) is one of the biggest transportation projects in Baden-Württemberg to date.
With Karlsruhe right on our doorstep, it was a fantastic opportunity for our staff who work "behind the scenes" (i.e. not on the jobsite!) to get up close and personal with one of our projects. We're proud to have played a role in this great project – a true example of people moving people. Congratulations to everyone involved!
Wir haben drei neue Stellen für unsere Teams in Deutschland und den Vereinigten Staaten zu besetzen.
Hier in Bruchsal suchen wir nach motivierten Fachleuten für die Position "Softwareentwickler" sowie "Projektingenieur". Unser eingespieltes US-Team sucht einen begeisterten Vermessungsingenieur zur Verstärkung des Teams. Wenn Sie Ihren Horizont erweitern und für einen Weltmarktführer in der Tunnelbau- und Industrievermessungs-Branche arbeiten möchten, dann sind Sie bei uns genau richtig.
Lesen Sie die vollständigen Stellenbeschreibungen und Vorteile unter den folgenden Links:
Software Developer, Germany
Project Engineer, Germany
Surveyor, USA
All open vacancies, Germany
Für weitere Informationen wenden Sie sich bitte an Tanja Hoffmann (deutsche-Stellen) and Mathias Knoll (US-Stellen). Wir freuen uns auf Ihre Bewerbung!