IN THE PAST: Quality checks of Master Rings took place on a horizontal surface, with test rings loaded on top of the Master Ring if required.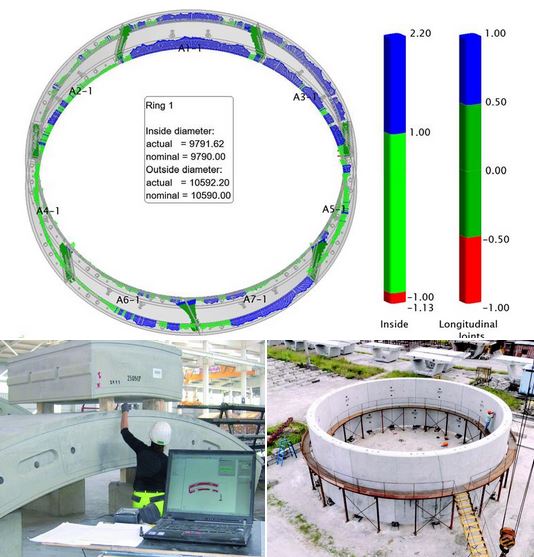 NOW: Our Virtual Master Ring construction software does the heavy lifting for you. Virtual master rings and trial rings are created & analysed for accuracy/production quality before being transferred underground. This means massive savings in cost, time, and people power.
 
How does it work?
Our portable laser trackers measure moulds and segments on-site
Collected data is analysed by the software and digitised to create virtual 'copies' of each segment
Virtual Master Rings and any other trial rings are analysed for accuracy and production quality, BEFORE segments are transferred underground and installed
Accuracy of the virtual segment assembly has been shown to be significantly higher than that achieved with previous physical construction method.
 
The new Gotthard road tunnel in Switzerland is considering only using these virtual master rings – a significant step into the future of the segmental lining industry. More information about the Virtual Master Ring process here.
Is the least of your worries that there are four million tons of stone above you? We realize projects where both adventurers and office heroes come together. Curious? Then we're looking for you!
To strengthen our project team in the field of navigation at our location in Chennai, we are looking for a Surveyor as Project Engineer (m/f/d) at the earliest availability.
In order to ensure the best possible onboarding, we offer an introductory phase at our headquarters in Bruchsal Germany.
Your tasks:
As a member of the Project Engineering team and after an appropriate training period, you will independently carry out the organizational, technical and business management of projects worldwide.
You will review and implement planning documents, carry out any surveying tasks, including network measurements, stakeout, and tunnel surveys, and install and launch our navigation and information systems.
At our customers' job sites, you will conduct training courses for the navigation and additional systems used, and will serve as a competent contact person throughout the entire project.
Your Profile:
Studies in the field of surveying, geodesy, geoinformation, civil engineering or a related field of study. Undergraduate degree preferred, but not required.
Alternatively, completed education as surveying technician.
Knowledge in handling surveying evaluation software and CAD programs.
Ideally experience in engineering surveying.
High degree of self-organization, flexibility, negotiation, and communication skills.
National willingness to travel (approx. 60% travel activity).
Very good command of Hindi and English, both spoken and written, and preferably other languages as well.
Have we aroused your interest?
Then please send your detailed application, exclusively as a PDF file, stating your earliest possible starting date and salary expectations, by e-mail to: bewerbung@vmt-gmbh.de or use our application form: https://vmt-gmbh.jobs.personio.com/job/932218?_pc=870267#apply
VMT GmbH | Tanja Hoffmann
Keyword: Project Engineer (m/f/d) Chennai
Phone: 07251 9699-140
Stegwiesenstraße 24 | 76646 Bruchsal
bewerbung@vmt-gmbh.de | www.vmt-gmbh.de
Sydney Metro is Australia's biggest public transport project: by 2030, the sprawling harbour city will have a network of four metro lines, 46 stations and 113 km of new metro rail.

Having the correct support systems in place for tunnelling machines, information handling and segment liner systems is crucial for such a massive undertaking. TUnIS.mono cam, our assistance system for double shield TBMs, has been involved in Sydney Metro City and Southwest and will also be used for the upcoming projects Sydney Metro West & Western Sydney Airport.
Determining the position of the front shield on a double shield machine has traditionally been a pretty complex undertaking, involving lasers, laser targets, inclinometers and cylinder stroke measurement systems, multiple sensors and complicated cabling. In contrast, TUnIS.mono cam works with only one single active component.
How does it work? Using automatic marker recognition and image evaluation, TUnIS.mono cam determines…
The absolute position and situation of the gripper shield
The position and situation of the front shield in relation to the gripper shield
From the combination of both datasets, the absolute data of the front shield is calculated
Read more about TUnIS.mono cam – among others the user report – here: www.vmt-innovations.com