IN THE PAST: Quality checks of Master Rings took place on a horizontal surface, with test rings loaded on top of the Master Ring if required.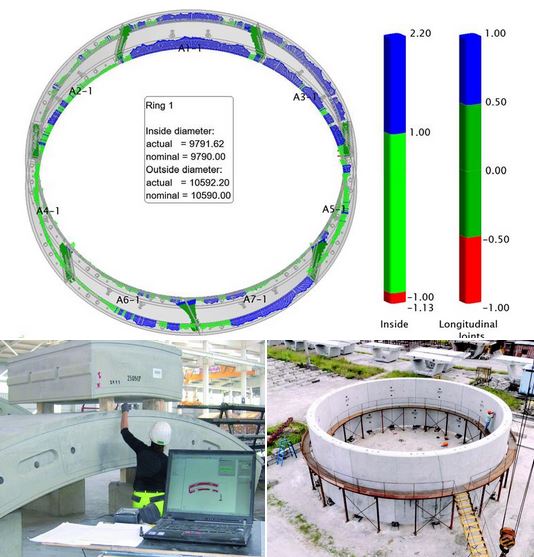 NOW: Our Virtual Master Ring construction software does the heavy lifting for you. Virtual master rings and trial rings are created & analysed for accuracy/production quality before being transferred underground. This means massive savings in cost, time, and people power.
 
How does it work?
Our portable laser trackers measure moulds and segments on-site
Collected data is analysed by the software and digitised to create virtual 'copies' of each segment
Virtual Master Rings and any other trial rings are analysed for accuracy and production quality, BEFORE segments are transferred underground and installed
Accuracy of the virtual segment assembly has been shown to be significantly higher than that achieved with previous physical construction method.
 
The new Gotthard road tunnel in Switzerland is considering only using these virtual master rings – a significant step into the future of the segmental lining industry. More information about the Virtual Master Ring process here.
Sydney Metro is Australia's biggest public transport project: by 2030, the sprawling harbour city will have a network of four metro lines, 46 stations and 113 km of new metro rail.

Having the correct support systems in place for tunnelling machines, information handling and segment liner systems is crucial for such a massive undertaking. TUnIS.mono cam, our assistance system for double shield TBMs, has been involved in Sydney Metro City and Southwest and will also be used for the upcoming projects Sydney Metro West & Western Sydney Airport.
Determining the position of the front shield on a double shield machine has traditionally been a pretty complex undertaking, involving lasers, laser targets, inclinometers and cylinder stroke measurement systems, multiple sensors and complicated cabling. In contrast, TUnIS.mono cam works with only one single active component.
How does it work? Using automatic marker recognition and image evaluation, TUnIS.mono cam determines…
The absolute position and situation of the gripper shield
The position and situation of the front shield in relation to the gripper shield
From the combination of both datasets, the absolute data of the front shield is calculated
Read more about TUnIS.mono cam – among others the user report – here: www.vmt-innovations.com