Wir haben drei neue Stellen für unsere Teams in Deutschland und den Vereinigten Staaten zu besetzen.
Hier in Bruchsal suchen wir nach motivierten Fachleuten für die Position "Softwareentwickler" sowie "Projektingenieur". Unser eingespieltes US-Team sucht einen begeisterten Vermessungsingenieur zur Verstärkung des Teams. Wenn Sie Ihren Horizont erweitern und für einen Weltmarktführer in der Tunnelbau- und Industrievermessungs-Branche arbeiten möchten, dann sind Sie bei uns genau richtig.
Lesen Sie die vollständigen Stellenbeschreibungen und Vorteile unter den folgenden Links:
Software Developer, Germany
Project Engineer, Germany
Surveyor, USA
All open vacancies, Germany
Für weitere Informationen wenden Sie sich bitte an Tanja Hoffmann (deutsche-Stellen) and Mathias Knoll (US-Stellen). Wir freuen uns auf Ihre Bewerbung!

Lesen Sie den Veranstaltungsbericht von B_I umweltbau
Der 12. Projektdialog Microtunnelling fand als eine der ersten größeren Veranstaltungen in der Trenchless Branche wieder als Präsenzveranstaltung statt…mit nur 364 Tagen Verspätung!
Da die Bedeutung der Digitalisierung durch die Herausforderungen des vergangenen Jahres noch deutlicher wurde, fand die beliebte Traditionsveranstaltung diesmal in einem hybriden Format statt, um allen Interessenten die Gelegenheit einer Teilnahme zu bieten. Neben den 100 Live-Teilnehmern in der Buhlschen Mühle in Ettlingen haben so über 30 zusätzliche Online Teilnehmer die Möglichkeit genutzt sich bequem vom heimischen Schreibtisch aus zu der Veranstaltung beizuwohnen, die Vortragenden zu hören, sehen, live Fragen zu stellen und sich an angeregten Diskussionen zu beteiligen. Wie immer – oder gerade wegen der langen Abstinenz! – wurden die Fachgespräche bei einem guten Abendessen und dem einen oder anderen Glas Bier oder Wein, bis tief in die Nacht fortgeführt.
Hier können Sie den vollständigen Veranstaltungsbericht von B_I umweltbau lesen: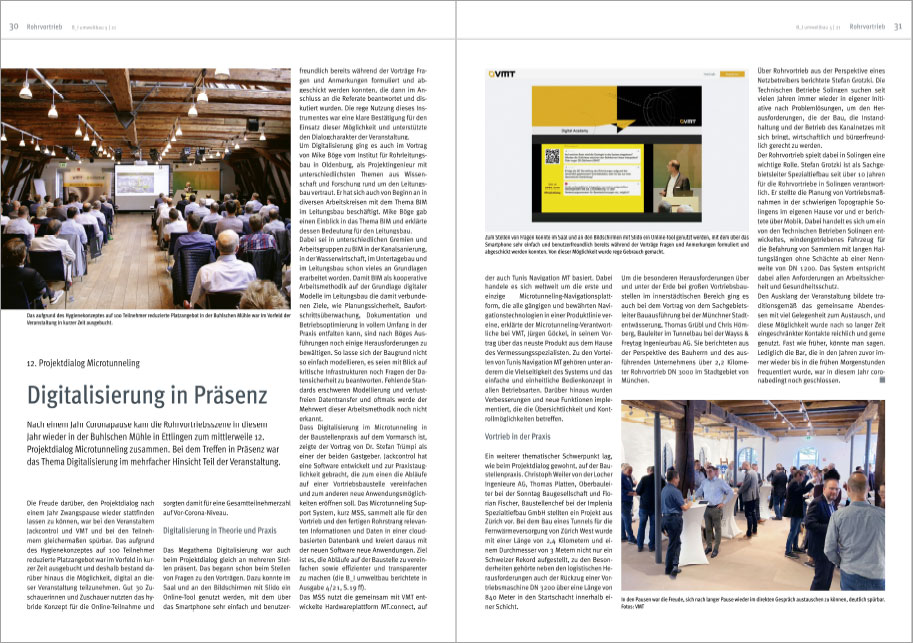 Natürlich wäre die Veranstaltung nichts ohne Referenten und Teilnehmer bei denen wir uns an dieser Stelle auch noch einmal ganz herzlich für ihr Engagement und Vertrauen bedanken möchten. Wir freuen uns auf den 13. Projektdialog 2022!
New gas transport pipeline installed in Nicosia, Sicily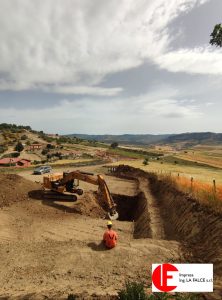 The TransMed and GreenStream pipeline project, currently under construction, will transport gas from Algeria and Libya to Europe, via Sicily. As part of the project, a new gas pipeline was required to be installed using microtunnelling equipment in the Sicilian town of Nicosia.
To maximise the accuracy of the drive it was decided to utilise VMT's SLS-Microtunnelling LT as the navigation system for the Herrenknecht manufactured machine. The contractor for the works – Ing. La Falce SRL – is a new customer for VMT.
All three drives for the project utilised VMT guidance systems, with the third drive recently breaking through on 16 September 2021. The first drive commenced on 1 May 2021, with breakthrough successfully completed just 27 days later on 28 May 2021. The second drive commenced on 14 June 2021, breaking through on 22 July 2021.
The drive profile of the 1.6 m diameter pipeline had a challenging vertical curve of radius 2,000 m, with Drives 1 and 2 having steep inclines at the reception end (+249 mm/m on Drive 1, +213 mm/m on Drive 2). Tunnelling was made particularly difficult by the high inclination and hard rock surface.
An environment of hard rock – sometimes combined with other materials – sees that tunnelling machines operate under high pressure and high contact force. Steep inclinations cause the squeezing of the pipes between two forces: while attempting to push pipes up from the start shaft, the weight of gravity presses them back down. This combination of conditions generated micro-stresses in different parts of the pipe string which were occasionally released. The resulting vibrations caused drastic and uneven back-and-forth movement of the pipe string, with the jackhammer-like movements increasing with each meter of the drives. To address the conditions, reinforcement was made on the TCA bracket. Although the VMT system still faced significant vibrations, the stability of the system was greatly improved, and excavation was able to continue as planned.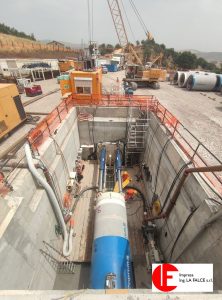 In addition, advance surveying works were required to get a proper location of the pipe axis in elevation. Here, additional preparation and accurate flow during the surveys contributed to the successful system performance.
Drive 3 presented its own challenges, demonstrating the variability that can often be experienced in underground conditions. Whereas the underground material of the first half of the drive consisted mostly of quartz – an abrasive material which can grind on the cutting wheel – the second half of the drive mostly consisted of clay, causing the periodic stalling of the machine.
Congratulations to our customer, partners and project engineers involved in the successful completion of these challenging routes.
At a Glance Fact Sheet:
Project Name or Designation/Timescale
Sicily Impresa Ing. La Falce
Location
Nicosia, Sicily, Italy
Project requirement

Gas Pipeline
Method
Microtunnelling/Pipe Jacking
Diameter/Length/Bend Radius
Diameter: 1.6 m

Lengths:

Drive 1 – 375 m
Drive 2 –  581 m
Drive 3 – 308 m

Vertical curve radius: 2,000 m

VMT System utilised
SLS-Microtunnelling LT
Challenges
The drive required a vertical curve with a steep inclination at the end (+249 mm/m on Drive 1, +213 mm/m on Drive 2)

Driving through hard rock with this high inclination caused the jacking pipes to move back and forth. Reinforcement was established on the TCA bracket, which improved the system stability.

Drive 3 presented its own challenges with the variability of underground materials.
The sewerage system in and around Herne is undergoing a transformation as part of a project to protect both the Hüller Bach and Emscher River from wastewater discharges.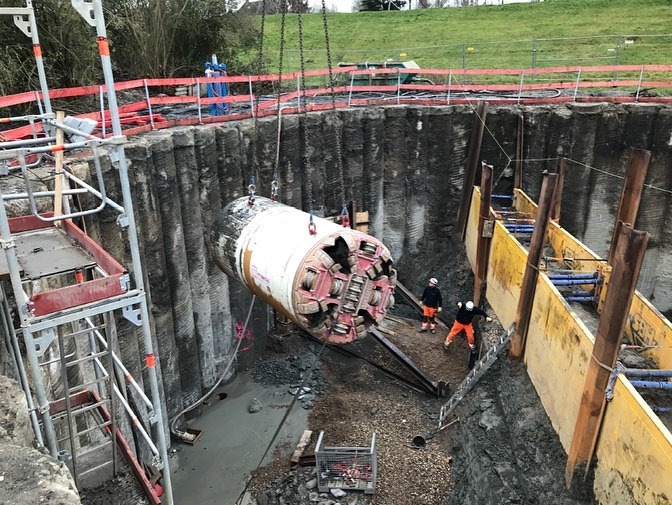 The Hüller Bach, a stream which flows through Herne in North Rhine-Westphalia, Germany, is the largest tributary of the Emscher River in the Ruhr area. For years the stream has effectively functioned as an above-ground sewer, with underground canalisation not possible due to the region's coal mining activities.
As part of a project to protect both the Hüller Bach and Emscher River from wastewater discharges, under the designation of the Emscher conversion project, the sewerage system in and around Herne is undergoing a transformation. A cease in underground coal mining has brought with it the opportunity to move sewerage below the earth's surface, with the construction of a new 2.6 km sewer pipe string running underground and parallel to the stream.
Since 1992, the Emschergenossenschaft has been planning and implementing the Emscher Reconstruction project in close coordination with the surrounding municipalities, in which almost €5.5 billion will be invested over a period of about 30 years. Sonntag Baugesellschaft mbH & Co. KG, the contractor appointed to undertake the recent microtunnelling works, elected to work with VMT as long-time partner and guidance specialist. A Herrenknecht AVN1600 machine, enlarged to OD2160, was utilised for the project, supported by VMT's navigation systems SLS-Microtunnelling LT and TUnIS Navigation MTLaserTotalstation.
Excellent collaboration between VMT and Centerline – who undertook the surveying for the project – contributed to the quick and successful completion of the excavation.
Three Successful Curved Drives
The new sewer sections were to be installed in three drives. Drive 1, covering a length of 350 m with a minimum curve radius 480 m, was completed in December 2020. Drive 2, completed between February and April 2021, had a length of 900 m with a minimum curve radius of 450 m. Drive 3 had a length of 700 m with a minimum curve radius of 450 m. This final drive was completed between April and May 2021.
Drive 1 utilised the standard SLS-Microtunnelling LT navigation system. This system is designed with a laser target unit, with a tunnel laser mounted in the start shaft of the drive and an active target unit placed in the machine. Data from the laser target continuously determines the exact position of the machine and displays any deviations from the desired alignment immediately on the monitor at the operator's position. According to Sonntag Baugesellschaft, Drive 1 was described as 'a winding 350 m long drive' which 'broke through the target seal with pinpoint accuracy'.
For the two longer drives with tighter curves, the contractor utilised TUnIS Navigation MTLaserTotalstation, VMT's latest incarnation of its laser-based guidance systems. In addition to the long distance and tight curvature of the latter drives, further challenges arose as a result of drilling restrictions on site. Usually, installation of the VMT system hardware takes place with the drilling and tightening of screws, allowing an easy workflow and flexibility in case of line-of-sight problems. For this project, however, drilling was not allowed in the tunnel as the inner surface of the pipe string needed to remain unaltered: as a result, sight distances needed to be precisely calculated in advance. In order to securely mount VMT hardware without the use of standard screws, tension rings were used during installation.

TUnIS Navigation MTLaserTotalstation allows precise and efficient navigation of curved and long-distance drives. The expert system is based on the principle of invariance, where the horizontal and vertical position of the machine is determined by a laser total station in conjunction with several reference and target prisms and an electronic target unit inside the machine. The laser total station is permanently installed in the pipe string. An inclination sensor integrated in the electronic target unit measures pitch and roll of the machine. The system is drift and refraction-independent and requires 50% less control measurements than the gyro-based all-rounder system. This equates to less interruption of tunnelling, shorter downtimes, and significantly increased tunnelling performance.
With the main pipe string successfully completed, the project will end later in 2021 with the connection of the lateral sewer connections. This includes the connections at the Herne-Königsgrube pumping station, Herne-Hordeler Heide and the connection of the Herne-Röhlinghausen pumping station to the new sewer of the Emschergenossenschaft.
At a Glance Fact Sheet:
Project Name or Designation/Timescale
TP 2020 3691 Herne Hüller Bach
Location
Herne, Germany
Project requirement

Sewer Installation
Method
Microtunnelling/Pipe Jacking
Diameter/Length/Bend Radius
Diameter: ID 1,800 mm

Lengths:

Drive 1 – length 350m, min. radius 480m in 2020 (Dec.)
Drive 2 –  length 900m, min. radius 450m in 2021 (Feb. – Apr.)
Drive 3 –  length 700m, min. radius 450m in 2021 (Apr. – May)

VMT System utilised
SLS-Microtunnelling LT (used in Drive 1)

TUnIS Navigation MTLaserTotalstation (used for Drives 2 and 3)

Challenges
Sight distances would have to be calculated precisely because it was not possible to drill in the tunnel. In order to securely mount VMT hardware without the use of standard screws, tension rings were used during installation.
Congratulations to our SDS Team, who recently commissioned their 50th traceability system on site in Klus-Balsthal, Switzerland.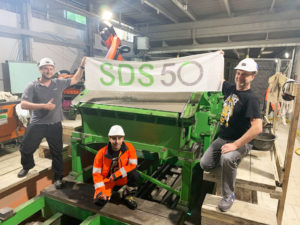 The visit to our customer Marti Technik AG was one of the first on-site visits after we had carried out several remote commissionings worldwide due to travel restrictions. Together with Marti AG, we will be working on 2 further projects in the coming months. The first is a precast concrete part production for the dam at Lake Gigerwald in Switzerland. The second will cover the segment production for the pilot tunnel of the 2nd tube of the Gotthard road tunnel.
With this anniversary we would like to thank all SDS team members, VMT employees and especially all our worldwide customers for their great cooperation and trust. We're already looking forward to the next 50 SDS projects and the new challenges they will bring!
Want to learn more about our segment production and logistics management system SDS? Watch the product video here.