The Ohio Canal Interceptor Tunnel (OCIT) is the largest project being undertaken on the 'Akron Waterways Renewed!' programme. The project is a joint venture between Illinois-based Kenny Construction Co. and Tokyo-based Obayashi Corp. which comprises boring a tunnel of 27 ft (8.23 m) internal diameter and 30.38 ft (9.26 m) external diameter over a length of 6,207 ft (1,892 m).
The bore is designed to be able to hold 25.6 million gallons (96.9 million litres) of stormwater and sewage during heavy rain events and control nine of the overflows into the Ohio & Erie Canal and Little Cuyahoga River. The project is worth US$184.1 million (€160.2 million).
The tunnel boring machine selected for the project was a Robbins Crossover (XRE) EPB, Single Shield machine which undertook tunnelling works from October 2017 to a breakthrough on August 2018.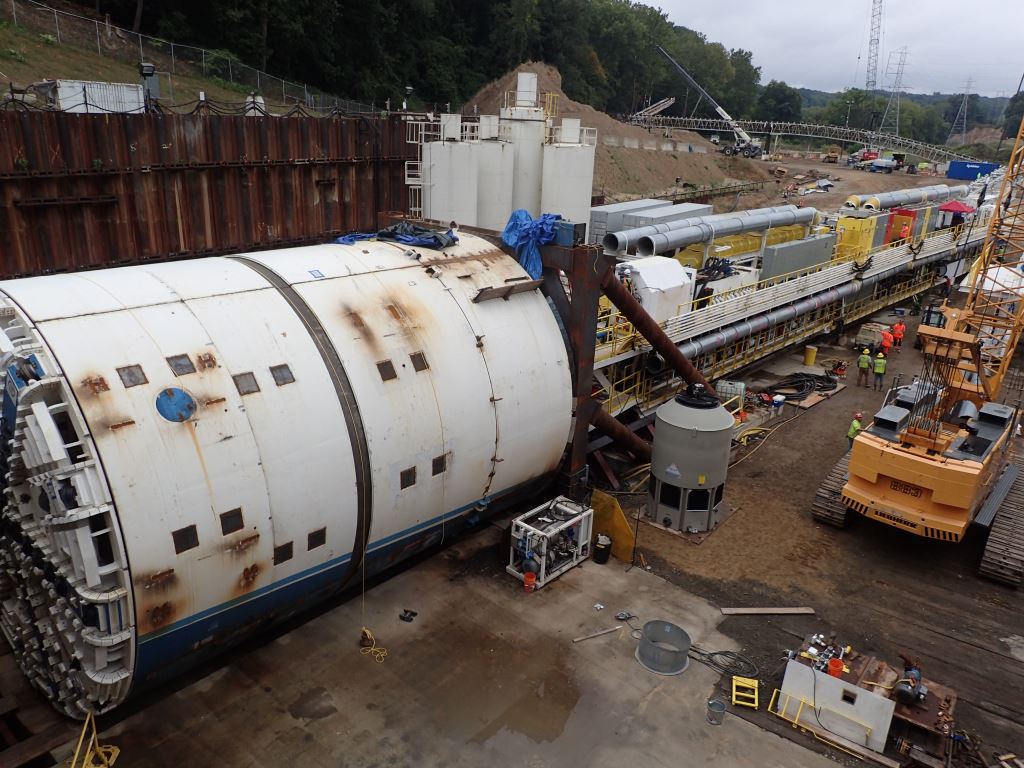 Navigation for the drive was provided by VMT using TUnIS Navigation TBMLaser, along with a VMT TUnIS Ring Sequencing system. The client also required the installation of a VMT Modular System for automated Deformation Monitoring MODUS during the construction phase.
VMT's challenge for this project was that the company had not previously installed a navigation system on a Robbins TBM. The team in the US however had experienced the installation of the same type of system on about 50 projects but on a TBM from a different manufacturer (Herrenknecht). The navigation system was also required to handle four (4) 1,000 ft (305 m) radius curves that formed part of the tunnel alignment design.
The ring sequencing system was designed to ensure the correct installation of the eight (8) segment 5 ft (1.5 m) long tunnel lining support rings.
Modular System for automated Deformation Monitoring MODUS was installed subsequent to discussions with the client which highlighted the immediate advantages and forward-looking performance advantages of the system. Modular System for automated Deformation Monitoring MODUS can evaluate and assess geometric changes in buildings etc. with sensors installed and their measured values continuously analysed. When critical changes occur, automatic warning and alarm messages are sent via email or SMS to appointed personnel to enable immediate action to be taken.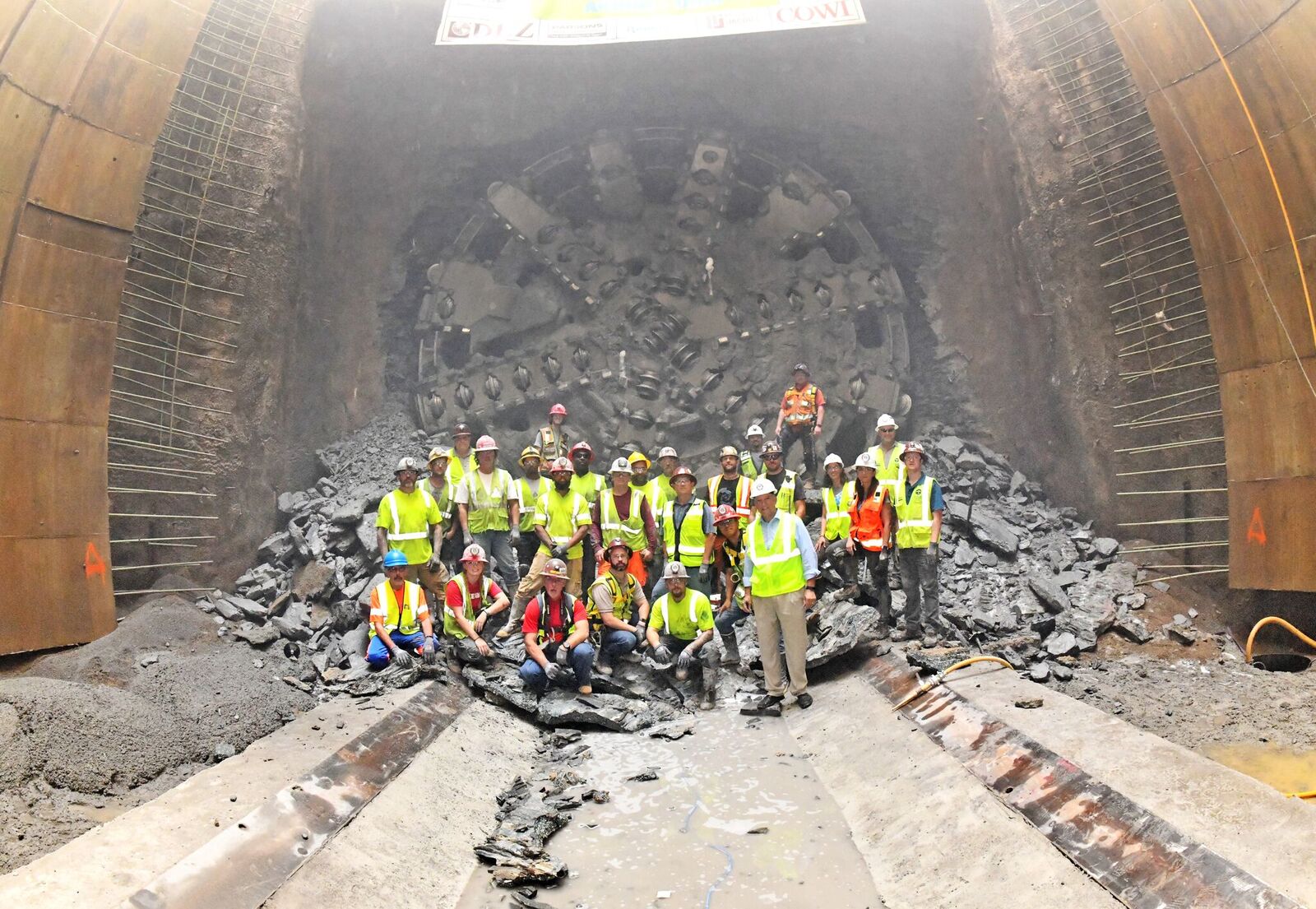 Modular System for automated Deformation Monitoring MODUS can be designed to fit customer requests and includes all the necessary hardware, geo-sensor networks for gathering data and equipment for transferring information into a database. It also includes TUnIS Deformation Monitoring software for data analysis, reporting and alarm management.
Despite this being the first installation of a VMT Navigation system on to a Robbins TBM, there were issues arising that could not be addressed with the TBM crew and those that did arise were dealt with quickly and effectively.
At a Glance Fact Sheet:
| | | |
| --- | --- | --- |
| | Project Name or Designation/Timescale | Akron OCIT (Ohio Canal Interceptor Tunnel) |
| | Location | Akron, Ohio, USA |
| | Project requirement | Installing a CSO (Combined Sewer Overflow) |
| | Technique | Large Diameter Tunnelling |
| | Diameter/Length/Bend Radius | 30.38 ft (9.26 m) Diameter Cut, 27 ft (8.23 m) ID using 8 Segment 5 ft (1.524 m) Rings, over a 6207 ft (1892 m) Alignment including 4x – 1000 ft (305 m) Radius Curves |
| | VMT System utilised | |
| | Challenges | First installation of VMT Systems on a Robbins TBM |
Neustadt an der Donau is a town in Lower Bavaria region of Germany, located on the River Danube. Recently there was requirement for the installation of a new 1,000 mm diameter gas pipeline over a length of some 1,260 m.
The route of the pipeline ran beneath a forested area and under three local rivers. Contractor K-Boringen, of Hasselt, Belgium was awarded the work to install the new pipeline, which was part of the Donaudüker Neustadt an der Donau project.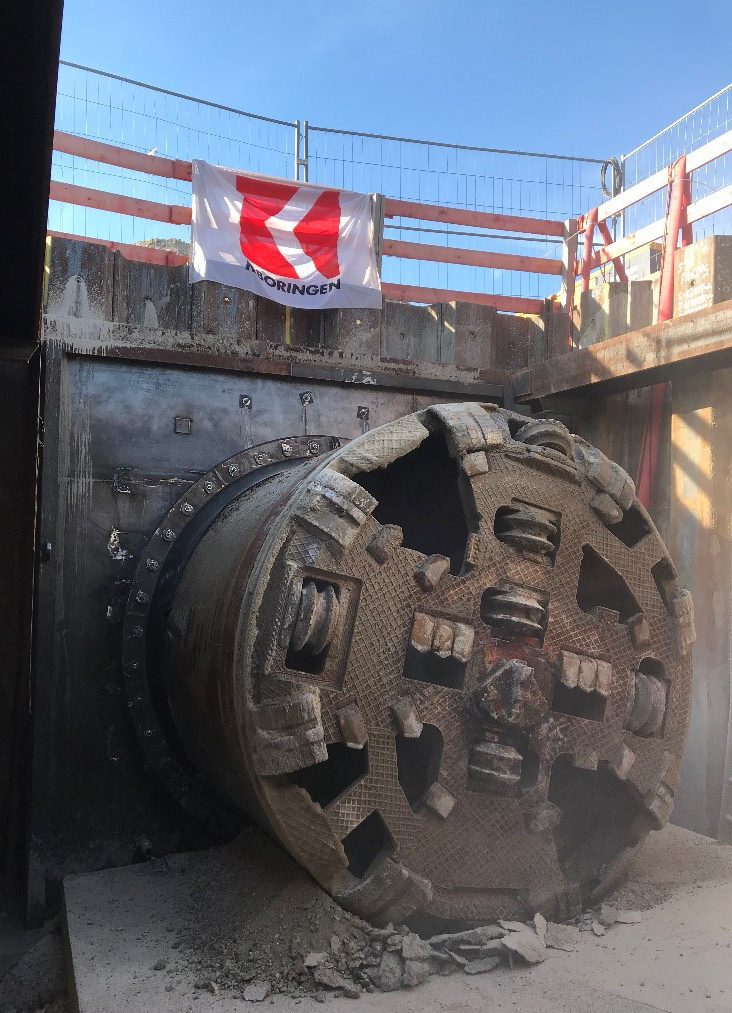 Not only did the installation have to cover the 1,260 m length but it also had, as part of the design route, a vertical curve with a minimum bend radius of 2,000 m. The installation of the pipeline took place between 23 April and 10 August 2018 using the microtunnelling technique. The microtunnelling system used was a Herrenknecht AVN unit.
To ensure the installation precisely followed the planned route the contractor utilised a VMT SLS-Microtunnelling LT guidance system that K-Boringen already owned, K-Boringen having had a long-term working relationship with VMT over many years and many tunnelling operations.
The SLS-Microtunnelling LT guidance system is designed to navigate curved and long distance drives using a motorised total station and laser target unit to determine the horizontal and vertical position, pitch and roll of the TBM/Microtunneller. It operates irrespective of any drift or refraction and requires fewer check measurements than other systems. Additional benefits include automatic measurement of the excavated tunnel, continuous tracking of tunnel movement as well as the option to perform system measurements during the bore advance.
The Neustadt an der Donau bore was completed on time and in budget without the need to utilise any form of gyroscopic measuring assistance.
At a Glance Fact Sheet:
| | | |
| --- | --- | --- |
| | Project Name or Designation/Timescale | TP 2018-3271 Donaudüker Neustadt an der Donau/April 2018 to August 2018 |
| | Location | Neustadt an der Donau, Germany |
| | Project requirement | Installing a gas pipeline |
| | Technique | Microtunnelling |
| | Tunnel Diameter/Length/Bend Radius | 2,000 mm/1,260 m/2,000 m |
| | VMT System utilised | SLS-Microtunnelling LT guidance system |
| | Challenges | Crossing beneath a forest and three rivers |