März 2021
Successful Combination in Belgium!
Diestersteenweg in Sint-Truiden, Belgium is a street that was undergoing renovation which included new sewer and rainwater collection systems. The project also sees the integration of new cycleways, greatly improving safety for cyclists and pedestrians in the area.

---
---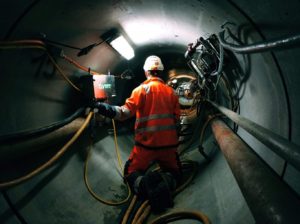 K-Boringen was awarded the contract for the new sewer system, which would be installed using microtunnelling equipment. The sewer required the installation of an ID1600 mm pipe string over a length of 548 m. Included in the drive were two curves forming an 'S' bend with one curve having a minimum 300 m radius and the second having a minimum radius of 600 m.
Being a long-term user of VMT Navigation Systems, K-Boringen opted to utilise VMT's new generation system TUnIS Navigation MT in combination with the similarly newly developed hardware platform MT.connect, for highest accuracy of the drives (particularly through the curved sections).
For optimal transparency and overview of the tunnelling process, Jackcontrol provided their Microtunnelling Support System (MSS) together with their equipment for the monitoring of joint movements and pressures inside the pipe string.
Based on the long-term partnership between Jackcontrol and VMT, Jackcontrol has recently decided to participate in the development of MT.connect. As a result both companies are now using the same hardware platform for their systems, significantly minimising the hardware efforts for the jobsite and making handling much easier.
Tunnelling began in early October 2020 with breakthrough being achieved at the reception shaft on 9 December, just some 10 weeks later.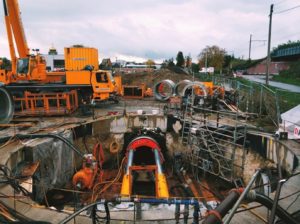 The project also marked the first use in Belgium of the TUnIS Navigation MTLaserTotalstation and MT.connect navigational hardware alongside the Jackcontrol tunnelling system. A few minor teething problems in the new navigation software were quickly overcome, with VMT providing site support and access to the Product Management Team at the head office in Bruchsal.

Commenting on the project for K-Boringen, chief operating officer Wim Feyen said:
"Running the Jackcontrol and VMT systems over the same hardware platform, MT.connect, worked very well, making handling faster and easier. We're definitely keen to work with the VMT and Jackcontrol combination again and plan to use MT.connect for our next long straights and curved drives."
At a Glance Fact Sheet:
Project Name or Designation/Timescale
Sint-Truiden Diestersteenweg
Location
Sint-Truiden, Belgium
Project requirement

Sewer Installation
Method
Microtunnelling/Pipe Jacking
Diameter/Length/Bend Radius
Diameter 1,600 mm, length 548 m, 300 m minimum radius including S-curve
VMT System utilised
TUnIS Navigation MTLaserTotalstation

Jackcontrol

Challenges
With a challenging S-Curve (R = 300 m, 600 m) – comprehensive preparation for system components. First use of the Jackcontrol system in combination with VMT Hardware.