80 years young and still going strong.

A very happy birthday to Dr Martin Herrenknecht, from all of us at VMT!
Our birthday gift is our new "Meating Point MH 80", an outdoor fireplace built by hand at our Bruchsal headquarters – as well as a portion planned in for you whenever we have a barbecue, and a donation made to the children's cancer foundation Kinderkrebswerk. We're wishing Dr Herrenknecht happiness, health, and many get-togethers around the campfire to come.
Although our Segment Documentation System is most often found precast rings and segments for the tunnelling industry, it's currently being used in the production of railway slab tracks in India's first Regional Rapid Transit System project.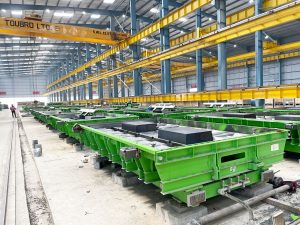 As soon as a mould is prepared with the scanner, the individual concrete specifications are transmitted to the mixing plant and the automated concrete mixing process begins – with the correct specified quantities of mixed materials being transferred to the corresponding "flying bucket", and then being promptly delivered back to the mould. The consumed materials are linked in the database to the currently cast slab track number, allowing full traceability and evaluation of the quality parameters for each produced slab track.
For more information about our Segment Documentation System,
visit our SDS website or get in touch with our team.