For over 15 years, VMT has been raising the next generation of industry professionals by offering opportunities for interns, working students and apprentices, as well as placements for students writing their Bachelor and Master theses.
Today we're shining a spotlight our apprenticeship program and our current apprentices, Muhammed Demir, Carlos Miguel Schmidt and Philipp Henigan.
In Germany, apprenticeships are a rigorous training program lasting anywhere from two to four years. Participants – or "Azubis" as they're affectionally known over here – learn at specialised vocational schools, as well as on site at their employing company. The combination of formal learning and hands-on workplace experience ensure that each Azubi is effectively equipped to enter the workforce at the end of their placement.
VMT has been offering apprenticeships since at least 2005 in the fields of IT, logistics, office management, applied informatics, electronics and mechatronics. Placements are offered most years – sometimes every two years, depending on capacity – and when a place is offered, competition can be tough! In our most recent intake round we had 85 applications, of which 12 were interviewed and two were finally hired.
Muhammed Demir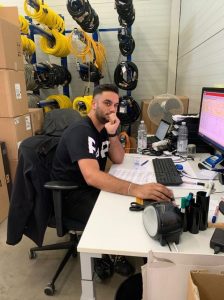 Muhammed Demir began his apprenticeship as an office management assistant at VMT in September 2020, with the goal of gaining insight into the varied tasks of office life in a future-oriented company. Although he supports many departments, his main work is with human resources and the purchasing department.
"Working with a fast-paced team has given me the invaluable hands on experience, getting to know so many systems and processes that I hadn't worked with before. Dealing with customers and guiding the course of an application process are just two of the many things I've learnt in my time here.
I love the working atmosphere at VMT. Everyone is friends and helps each other out, and my team leaders never hesitate to support me in my development. I'm excited to keep growing in my role, and hope to continue working for VMT after my apprenticeship ends in July 2022."
Carlos Miguel Schmidt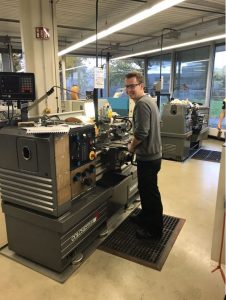 Carlos Miguel Schmidt is in the third year of his apprenticeship as a mechatronics technician, with his final exams coming up this summer. Carlos opted for an apprenticeship with VMT as an alternative to the more formal learning environment at university. His hands-on role with the mechatronics team – within the Hardware & IT Solutions department – was a perfect match.
"At VMT I learned to apply my knowledge practically and to find solutions for equipment in harsh environments. I get to work on small scale manufacturing, testing and repairing central boxes and sensors, building prototypes, and designing and building special testing equipment or mounting solutions. I love the broad range of tasks and being part of such a nice team.
During the first year of my apprenticeship, VMT supported me in attending a special training workshop to learn how to operate different kinds of machinery. It's been wonderful to have these kinds of opportunities and to spend time in different learning environments.
VMT has given me a great foundational experience in the industry. Moving forward, I'm excited to acquire additional qualifications, to expand my knowledge and to explore my full potential in the field of mechatronics."
Philipp Henigan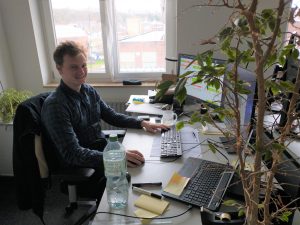 Before starting in his current role, Philipp Henigan was a working student at the VMT branch in Witten. Loving the team and working environment, he asked to start an apprenticeship. Now, Philipp is in the second year of his apprenticeship as an IT specialist.
"As part of the SDS team, the scope of my duties is very broad. I am tasked with installation, configuration and development of the mobile scanners, our web visualisation and our main product itself. Having such variety is fantastic and the work day never gets boring.
In my time at VMT I've learned so much about databases, development and dealing with strangers. My best memory so far was commissioning of my first own configurated system near London. I went there with a project manager and worked on site. It was very interesting and a different world than normal.
In five years' time I would love to still be working for VMT…and hopefully doing more of these commissionings!"
We're delighted to have Philipp, Carlos and Muhammed as part of our team, along with our current interns, working students and thesis writers.
Interested in professional development opportunities at VMT? Get in touch with our Human Resources Assistant, Tanja Hoffmann.
Tanja Hoffmann
Tel.: 07251 9699-140
bewerbung@vmt-gmbh.de