Congratulations to our SDS Team, who recently commissioned their 50th traceability system on site in Klus-Balsthal, Switzerland.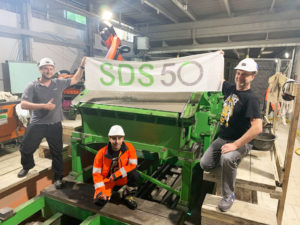 The visit to our customer Marti Technik AG was one of the first on-site visits after we had carried out several remote commissionings worldwide due to travel restrictions. Together with Marti AG, we will be working on 2 further projects in the coming months. The first is a precast concrete part production for the dam at Lake Gigerwald in Switzerland. The second will cover the segment production for the pilot tunnel of the 2nd tube of the Gotthard road tunnel.
With this anniversary we would like to thank all SDS team members, VMT employees and especially all our worldwide customers for their great cooperation and trust. We're already looking forward to the next 50 SDS projects and the new challenges they will bring!
Want to learn more about our segment production and logistics management system SDS? Watch the product video here.